* ASTM rated hot tub cover
The American Society of Testing and Materials, or ASTM, has developed safety standards for both swimming pool and hot tub covers.
The rating ASTM F1346-91 means that the cover must meet performance standards to serve as a barrier for children under the age of five.
All Advanced Spa and Hot Tub Covers meet or exceed the ASTM Standards.
Just as important as the ASTM rating, many covers cannot support the weight of added loads and/or the get very weak once the foam cores get saturated with water due to them leaking. The ASTM rating listed above does not fully cover this major and leading cause of failure in the traditional covers design and construction methods. Take this cover shown below for example (courtesy of Trip Advisory and taken by a tourist visiting a well know vacation resort)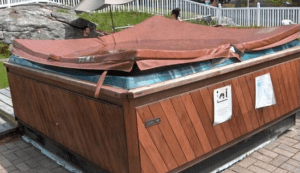 This cover above undoubtedly meet the same ASTM standards, but still this happened and obviously created some very serious safety concerns.
Advanced Spa Covers are the only cover available with the Laminated Honeycomb Core Technology that eliminates all concerns of sagging centers, ponding water, broken cores and bent hinges and support beams. And we back that up with the only Lifetime Warranty.